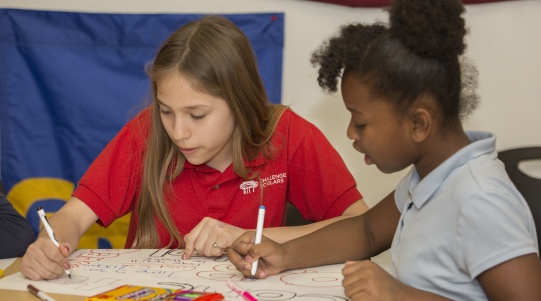 Supporting Student Success
The Dream Fund accepts applications year-round, and makes award decisions in the spring and fall. Please see the grant application guidelines and application below.
What is the Dream Fund?
Grand Rapids Community Foundation created the Challenge Scholars Dream Fund to support your ideas for projects in schools and in the community that will accelerate student success. Our students, parents, teachers and community have already identified the priorities—now it's your turn to dream big. We want to help make your idea a reality! The Dream Fund supports projects that create strong relationships or supportive transitions, encourage high quality teaching and learning, build financial stability for students or encourage community-led, mutually accountable systems.
If you are a Challenge Scholar, a parent, a teacher or a community partner, these grants are for you! The Dream Fund opens the door for you to make change happen.
What We Fund
Grant funds are available for projects that benefit Challenge Scholars in 6th grade through college. Challenge Scholar students and parents, representatives of 501(c)(3) nonprofit organizations (including colleges and universities), and school staff at Union High School, Westwood Middle School, and Harrison Park School may apply.
$10,000 is the maximum available to any one school building, organization or group each school year. Partnerships between groups and organizations are encouraged!
Projects should be inclusive. Participation in projects must be open to individuals of any race, ethnicity, gender, religion, marital status, sexual orientation, age, national origin or disability. Applications from religious organizations for non-religious purposes will be considered.

Click here to download grant application guidelines.

Have an idea? Apply for a grant! 
1

Describe

2

Review

Allow the Dream Fund Committee to review your materials.

3

Launch

Launch the project with funds in hand.

4

Share

Share your story and watch students succeed.
We're here to help!
For questions about your Dream Fund application or Challenge Scholars reach out to our amazing staff!